Stop spending your nights and weekends doing laundry. We'll pick it up, expertly clean it, and return it to you, perfectly folded or hung. Save 3+ hours every week to spend however you want.
The best way to learn about our laundry service is to experience it like a customer. See for yourself how easy it is to never do laundry again.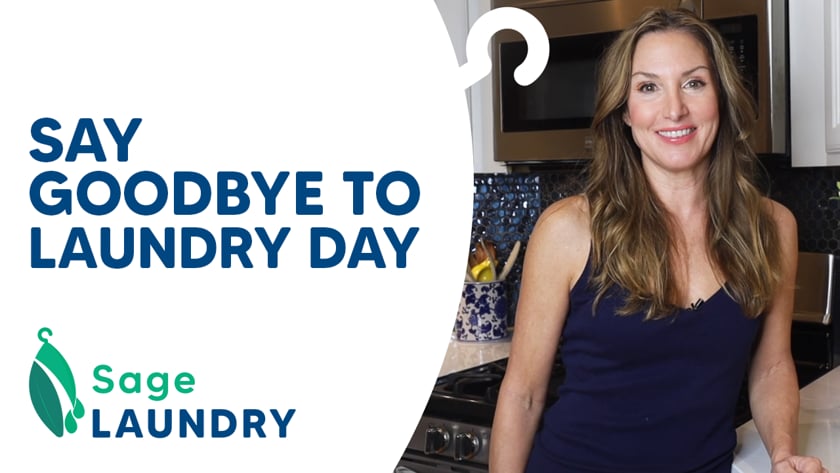 Schedule A Pickup
Schedule your pickup using our website, app, phone, or text message. Pick whatever day is most convenient.
We Clean Your Laundry
Your laundry is cleaned by our professionals exactly as you'd like. We fold or hang according to your instructions and prepare everything for delivery.
Door to Door Delivery
Your fresh and clean laundry is returned to your home or business. Ahhhh, clean laundry! Schedule your next pickup and we'll be there.
What Our Customers Are Saying
Never Worry About Laundry Again
We're a Sacramento & Yolo County-based laundry service that helps you save hours and lots of aggravation by taking care of your laundry. We make the experience easy, convenient, and fast. You'll get your laundry back exactly as you'd like.
Convenient Pickup & Delivery

It's easy to schedule and you can choose contactless delivery if you'd like. You don't even need to be home. We make laundry convenient.

Choose Your Preferences

Want a scent-free detergent? A little extra softener? No problem. Let us know how you want your laundry done and we'll take are of it.

Guaranteed Satisfaction

We're so confident in our service that we guarantee you'll be delighted. If you're not satisfied for any reason, we will rewash or refund your order at our choice.
Pay By The Bag
Fill up one of our laundry bags with as much as you'd like and pay a flat rate. Our bags are around the same size as a standard 13-gallon kitchen trash bag, which holds about 22 pounds of laundry.
Have just an occasional need for laundry service? Use our a la carte option and place an order whenever the need exists.
Know that there will always be another pile of laundry that you just aren't going to get to? Sign up for one of our subscription plans and save.
In either case, know exactly how much your laundry will cost before placing your order. Feel free to put your laundry in a clean, disposable bag for your first order and we'll return in our laundry bag.
Subscriptions
As Low As

$35

/ Bag
No

Service Fee

Free

Next Day Delivery

Choose

2, 4, 6, or 8 Bags Per Month

Additional

Bags At A La Carte Pricing (No Fees)
A La Carte
$45
/ Bag
$7.95

Service Fee (per order)

$7.95

Next Day Delivery (per order)

Free

Two-Day Delivery (per order)
On-Demand Scheduling
≈ $1.59 per pound when you subscribe for 8 bags per month
$280
Call for details or for info on other individually priced items.
$17 - $38
Our bags are deceptively large. Reach in and pull up the liner and the bag expands quite a bit. Feel free to fill it up all the way. Just make sure that you can pull the drawstrings closed tight enough that a coffee mug couldn't slip through. This ensures items won't spill out and get lost. If you put so much in the bag that you can't close it properly, we reserve the right to charge you for the overage.
If you're not happy with the quality of your laundry, please let us know and we'll either re-clean it or refund the fee at our discretion. We take pride in delivery a high-quality service and want to make sure you are delighted in our work.
If you notice any clothes that are damaged, please let us know right away. This is incredibly rare, but we'll work with you to find a fair solution. Please read our terms and conditions for details.
All laundry is processed in our commercial facility, either in Woodland or Sacramento. You're more than welcome to visit us and see for yourself how clean and pristine our facility is and watch our professionals process laundry. 
Please check your pockets and empty them before you send your clothes to be washed. We try to inspect all garments and pockets prior to washing but are not responsible for any damage due to customer oversight.
All of your personal and payment information is stored in an encrypted cloud-based system only accessible to our employees with access. Your information is never shared with anyone nor do we rent or sell your information. Your privacy is important to us and we protect it carefully.
We want you to be delighted with your laundry service and are happy to accommodate most special requests. We do not usually charge extra for special requests unless they require us to separate and use more machines than usual.
Both! We typically hang dress shirts, dresses, and slacks while we fold everything else. If you have any special requests regarding hanging or folding, just let us know when you submit your order.
We use professional-grade laundry products that do a superior job to those available to consumers. These products come in both scented and unscented (free & clear) options. We have other products like Tide, Gain, and Downy available upon request. We're happy to use any products we have in stock if you have your favorites. This includes free & clear products for those sensitive to perfumes and other additives. If there's a product you'd like us to use that we don't carry, you can provide it to us, and we'll store it in our back room to use on your orders only.
Yes. If you let us know you want something air-dried or we see that the product label recommends air-drying, then that's what we'll do. Please note that air drying might delay the return of your clothes since it can take many hours to dry completely.
Most definitely! Every customer's laundry is kept separate from other customers at all times. We do not put your laundry with anybody else's in any machines. And yes, some laundry services do exactly that in order to cut down on their costs, but we think that's completely unacceptable.
We'll do our best to remove stains that you indicate or that we see in our initial sorting and inspection. Please understand that no laundry service can guarantee the removal of a stain. But if we're aware of one and it's not set, we'll do our best to remove it.
We reserve the right to refuse service if we believe your laundry would cause a hazard to our team or potentially damage our machines. At our discretion, we'll clean contaminated items for an additional charge of up to $35 including:
human or animal fluids
excessive pet hair
mildew
bedbugs
A hazard fee of up to $100 may be applied on orders containing needles, ammunition, syringes, or broken metal.
Please contact us for details.
Our standard turnaround time is the next day for customers on a monthly subscription and two-day for a la carte orders. Next-day service is available on a la carte orders for an additional fee. We currently provide service Monday through Friday in the Sacramento area and Monday through Saturday in the Woodland/Davis area. For very large orders, or orders requiring special handling like air drying, it might take an extra day, but we'll let you know.
You do not need to be home for us to pickup and deliver laundry. If you aren't home, we'll simply pickup or deliver from your front porch or another location you identify. 
Whether you interact with our driver is completely your choice. We can pickup and delivery your laundry with as much or little contact as you'd like.
We're happy to pickup from any business, commercial, industrial, or agricultural location. 
If you schedule service and our driver is unable to pickup your laundry, you'll be charged a $15 service fee.
If you don't have a Sage Laundry bag, just put your clothes in clean trash bags or other suitable containers. We'll return them in one of our laundry bags.
Not at all. We're here to take the pain away from laundry day so why spend time doing what our team is happy to do. We separate into whites, lights, and darks for every order.
We utilize per bag pricing starting at $45 per bag and as low as $35 per bag with an 8-bag monthly subscription. Items such as comforters, sleeping bags, and dog beds are priced individually. See our laundry service pricing page for details.
Yes, our minimum charge is $35 for pickup & delivery service.
We charge a $7.95 service fee per order. However, if you subscribe to one of our monthly plans, than we waive the service fee saving you even more money.
Payment is typically due before we begin cleaning your clothes. The only exception is if your clothes are wet. In that case, we'll weigh your clothes after they've been washed and dried, so you aren't charged extra for the weight of the water. You must have a credit card on file to schedule a pickup.
For our pickup & delivery laundry service, you must provide a credit card that we keep on file. You can provide us with that information over the phone, in person, or by logging into your account on the web or app. Your credit card information is encrypted and stored in compliance with Payment Card Industry standards. Businesses that have ongoing service may elect to be invoiced. 
We provide a complete commercial laundry service with pickup & delivery. Businesses, Airbnbs, schools, and other commercial accounts may qualify for special pricing. Please get in touch with us so we can provide a customized quote.
We offer subscription options for customers with an ongoing need for laundry service. You can subscribe to 2, 4, 6, or 8 bags per month. You can use any number of bags at any time during the subscription period. 
Lower cost! We offer discounts based on the number of bags per month you are subscribed to. Plus, we waive the service fee and provide free next-day delivery.
You can send in as much laundry as you have. If you go over your subscription plan, you will be charged the a la carte rate for a bag. However, you still don't pay any service fees and receive next-day delivery at no charge.
Your subscription amount is charged to your credit card on file at the beginning of the monthly subscription period.
You can change or cancel your subscription at any time. However, we do not provide refunds on unused bags. Changes to your subscription will take effect at the next billing cycle.
We waive all service fees and next-day delivery fees for our subscribing customers.
Get 10% Off Your First Laundry Service